writings
"dust is a fascination of mine, because I see my existence in accumulation. One minuscule moment that I live is one invisible speck of dust on the windowsill. And when many moments filter by slowly, something tangible appears. My identity, or something gray which is both everything and nothing at once. Thoughts, impressions, moments, and sensations not acutely remembered, but somewhere in their being is a substance that fills an immortal void."
Arriving later than intended, cafe happening around me. Sent John away for a time - "I need to do some writing and stuff." Metallic beats, hammers on steel, float through the air from across the street. In the washroom, looked at the colour of my hair, tempted to dye it black with ink. Tempted to retreat from the world, hide out and make my own world. What is this time? What will it be when I look back on it? A time of meaningless scribbles, wrong coloured words? Relighting a smoke, fingers sparkle from sweat. Tiny sparrows hop around, hoping my ashes are crumbs. And a striped hornet on the back of the chair. I want a snail to go by, so I can watch it and forget I'm here. I'll make up my own language, since it doesn't matter what I write. Fill this book with bk, licklesniz,bahellkm, nppppkl nqkrpg lr mynnallo prakuline strene. what hopelessness I suddenly feel, writing letters without thought. With too much thought, they are only look, after all. Moving the pen becomes difficult; I am tired, like running. The wind makes it feel like I'm at the front of a ship, the smell of water, breathing in my truth, and I see whales, and long for company. I'm shaking. What do I mean? What do you mean? I'll look up with pleased and deep down happy, when you arrive. I sense it in my belly. The best feeling is burying my hands in the volume of my tangled hair, meditating on my transformation and how gold I am. A soft and sincere voice, as an aside and not a response, saying god look how tanned you are, subtle kindness.
Concrete: actual, factual, accurate. Corporeal, definite, detailed, explicit, material, objective, particular, precise, real, sensible, solid, specific, substantial, tangible. Ant: abstract, ideal
Calcified, compact, compressed, congealed, conglomerated, consolidated, indurate, monolithic, precast.
Concurrent means both simultaneous and converging
first thing upon waking, reaching for something familiar, first groping with my mind for a foothold to pull me out of the reality of dreams, then listening, with eyes closed, to the flood of sounds, listening to my skin rubbing against the blankets, the blankets crumpling, the texture of a rolling stretch, the stretch of the first wide happy smile. (...) Waking, knowing that its not too late yet, because the light isn't bending through the roof yet onto our faces
Worm and talk, worm through the falling water, come to rest on a mountain or sky earthy thing. I know you'll sleep and bathe, and all day long want to sleep and bathe, in the dust and smoke. Try waking, just try, coming down with us
Whisper and make it stay morning, if you can. All day long whisper, even if you dreamed in loud words, even if you want to yell. Sleepy-eyed animal. Something for the road, today or another, take, take...take the treasures in your hair, the water in your veins, pencils in the pockets. For a short journey to the rocks, fire, a crushed marble. I don't know have you been painting? Yes and I left it in the dirt.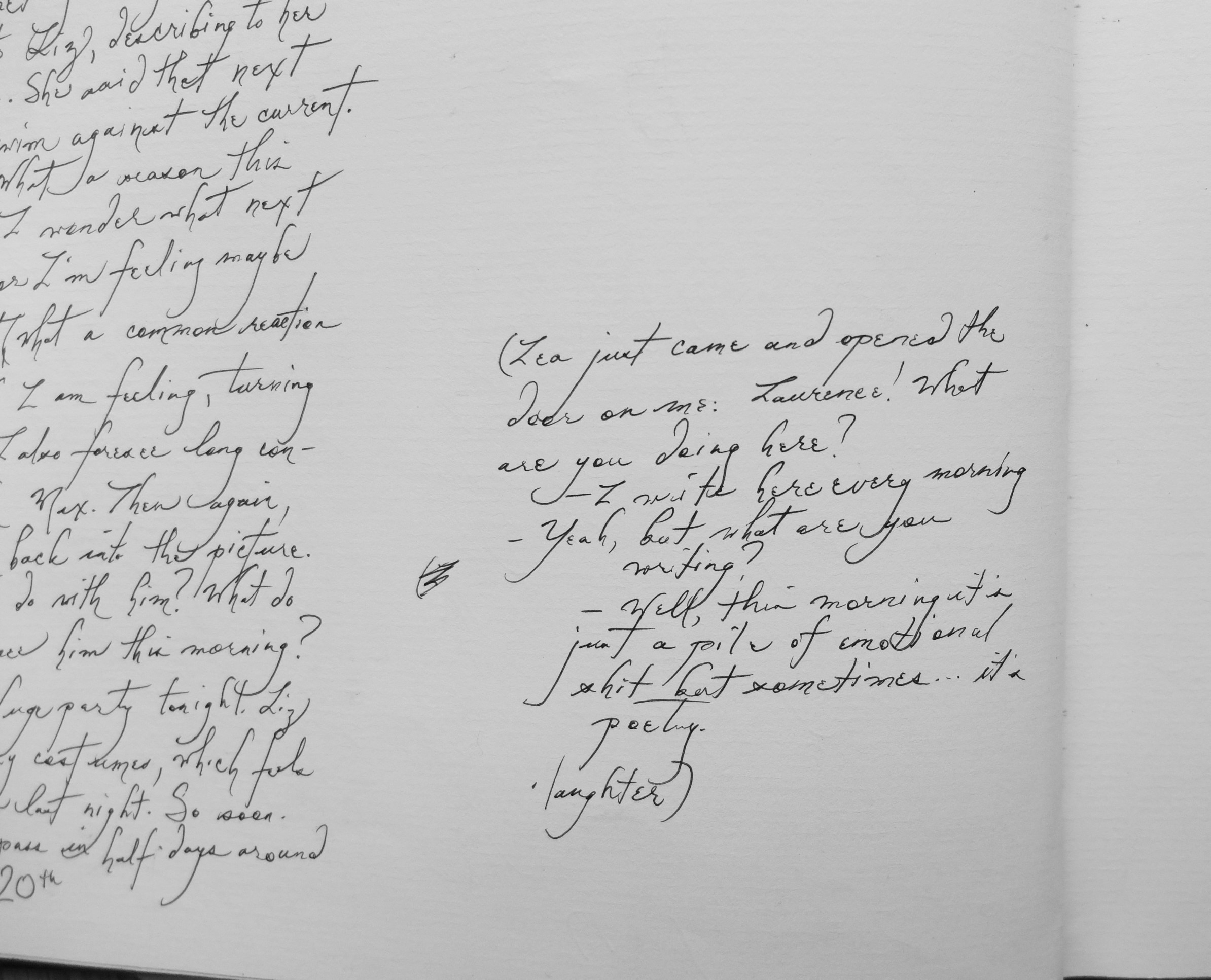 (Lea just came and opened the door on me.)
- Laurance! What are you doing here?
- I write here every morning.
- Yeah, but what are you writing?
- Well, this morning it's just a bunch of emotional shit but sometimes...it's poetry
(we both laugh)